Here's a tutorial for the Mario Piranha Plant I made! The 10.5″ plant is crocheted and the pipe is a pot that I painted. On to the details:
I used the pattern below to get the head shape, lip detail and general idea. She uses a really tiny hook to get something pretty tiny so I used a 4.00mm hook and a medium weight yarn to make the plant a lot bigger. I first attempted the pattern with a 1.25mm hook and a weight 1 yarn, but it's just not what I'm used to.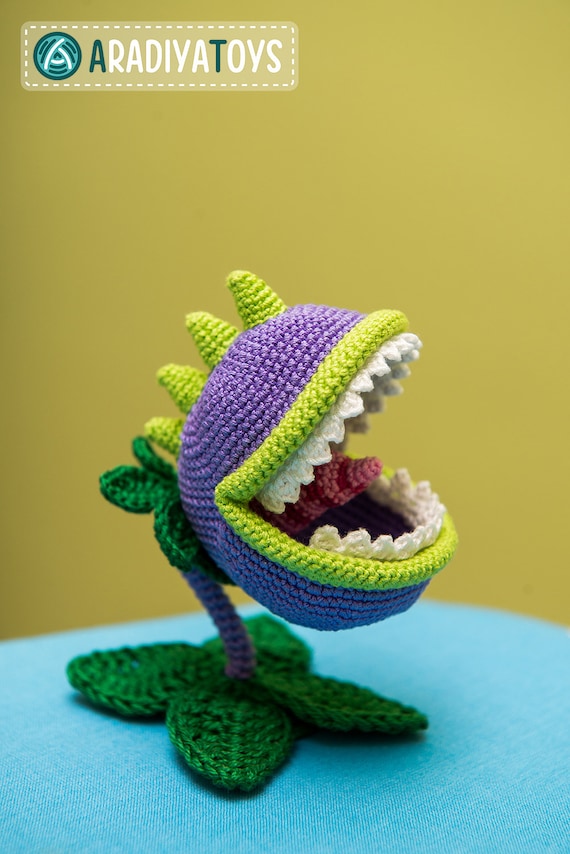 I made the lips bigger by adding rows and then stuffed them with fiberfill as I sewed them on. I added some crocheted white spots in varying sizes. Felt would work well for this too and would cut down on sewing time if you glued them on. I made the teeth out of felt and glued them on the inside of the lips. I just used references from google to get the spot and teeth placement right.
Time for the stem! I crocheted a tube about 8 stitches around and about 35 rounds long with green yarn. Now get a really sturdy wire; I bought a 12 gauge brass wire. Try to get something heavier than aluminum, it's too light and won't support the weight of the plant. It took a lot of trial and error to shape the wire just right. It's coiled at the bottom, inserted into the crocheted stem where a second piece of wire is joined. Then both wires are inserted into the head where one wire arcs on the top and the second wire arcs on the bottom. It helps to cover the ends of the wires with hot glue so they don't catch on the yarn. I stitched the wires in place on the head so they didn't move around.
Now it needs a Mario pipe! I bought a terracotta pot and some acrylic paints. I did about 4 coats of the festive green and then added the highlights (also 4 coats except for the white which was only 1 coat). Make sure your strokes are all vertical and I found it helped to paint the body and bottom first so you could hold onto the rim and then paint the rim last.
If you wedge the wire in the pot it can stay in place, but it's not very stable. You can fill the pot with decorative fillers, coffee beans or something similar to make sure the plant doesn't wobble. I bought some small black stones; one 28 oz bag was the perfect amount. Make sure to cover the hole in the bottom of the pot with a piece of felt or paper beforehand. I just hot glued a piece of green felt.
Tada! A handmade Mario piranha plant of your very own!